One minute you're settling into your armchair, feet propped up, ready for a relaxing, end-of-summer read. The next, just pages into the first chapter of Wings — Game Birds and Bird Dogs of Alaska by Ninilchik author Mike Chihuly, and you're immersed in chilly, but invigorating, temperatures, your face pelted by wind-driven rain, the waters of Izembek Lagoon stretched out before you. Your stomach is full from a hearty breakfast at Izembek Lodge, your pack holds snacks for the day ahead, your camera is dry in its Pelican case, and your shotgun is at hand. Your beloved bird dog is at your side, the two of you communicating in a language honed through years of training.
Then the air fills with the "cr-r-r-rk" of approaching black brants, music you single out from the cacophony filling the air and as the birds land on the salty lagoon and mingle with your carefully placed decoys.
Welcome to the Alaska of Ninilchik author Mike Chihuly, with more to enjoy on every page of this coffee table book published by Publications Consultants. For instance, there's the unexpected, blinding, and, thankfully, short-lived snowstorm somewhere near the Tanana River that sends chilling drops of water down your back. But never mind, you're with friends and family, your beloved canine companions, and searching for sharptail grouse.
"I am giddy with excitement and anticipation of the hunt and I am beside myself over this crazy weather. Cold and wet. It is delightful! …I wouldn't trade it for anything," Chihuly confesses.
From a folding chair in front of his Susitna Flats' duck shack, Chihuly gives new meaning to "five-star accommodations." 
"The wind whistles through the cabin and can be ominous but there is comfort in knowing that this shack has weathered the storm for decades through some of the worst weather Alaska's Cook Inlet has to offer, and it is still here and looks much the same as it did years ago. Is there a problem here? No, sir! It is wonderful!" he writes, certain that "the good Lord spots us an extra day on this earth for every day spent at the duck shacks."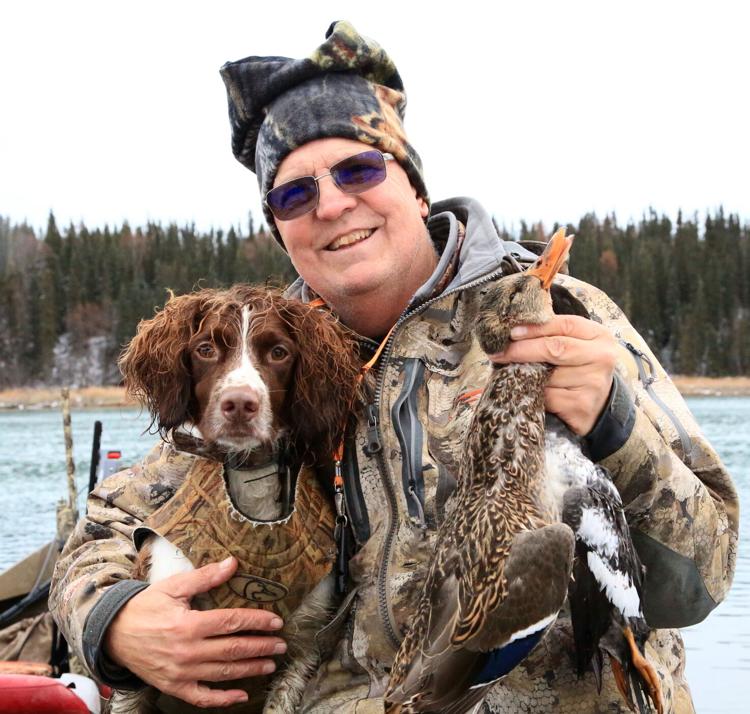 Through an educational, entertaining and balanced weaving together of words and photographs, Wings detals types of bird dogs, what to look for when selecting one, the training necessary, and, with humor and affection, Chihuly describes the failures and successes he's experienced during more than 50 years of hunting.
"Every change in (bird) species and change in type of terrain hunted throughout Alaska will bring new experiences that you and your pup will have to adapt to. Be warned, but cherish them all!" he advises.
With matching thoroughness, Chihuly outlines the appearance, habits, and range of Alaska game birds, what to do once you have "bird in hand," and includes tried-and-true recipes. What's not to love about honey ginger roast duck or goose/duck gumbo?
The value of bird dog associations, a listing of such organizations in Alaska, and the importance of a community of likeminded enthusiasts gets a nod from Chihuly, a member of the Arctic Bird Dog Association. Ethics and passing good hunting practices to others — in Chihuly's case, his children and grandchildren — also are emphasized.
"As an older hunter, I still revel in the chase, the rustle of wings, the flush of the birds, and I enjoy the excitement of hunting with a dog," he concludes. "Although I love to bring game home to eat, I am now less worried about my success. I don't have to shoot my limit to be happy. … There are a myriad of other ways to measure success and gain satisfaction."      
Of Wings — Game Birds and Bird Dogs of Alaska, Rick Merizon of Palmer, small game biologist with the Alaska Department of Fish and Game, said, "This will be an amazing addition to all Alaskan bird hunters' and dog trainers' libraries and an even more attractive allure for nonresident hunters always wanting to experience the fantastic opportunities Alaska has to offer."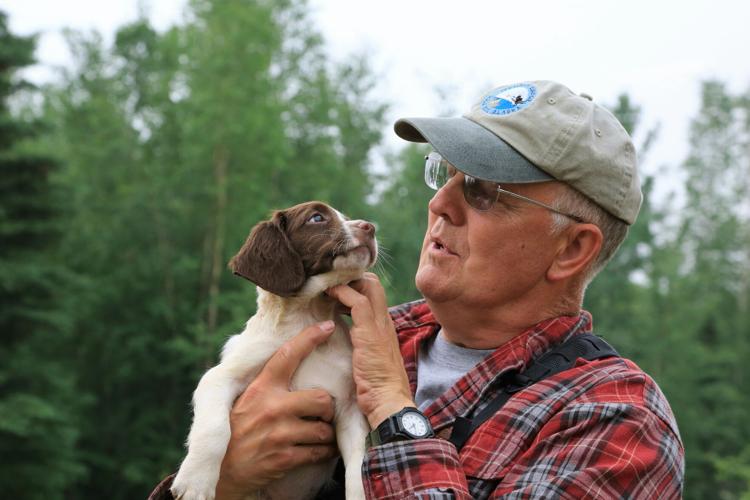 Sharon McLeod of Fairbanks, a former big game guide as well as former member of the Alaska Board of Game, was captivated by Chihuly's Wings.
"This. Book. It's so good, I lost two hours the day it arrived because I sat down and started flipping pages. Dogs and bird info, recipes, hunting stories, bird dog training, wonderful photos. It's so much more than a coffee table book," McLeod said.
With the book finding its way into readers' hands and fall around the corner, Chihuly's looking forward to spending "as much time with my dog as possible, doing what we both love. I owe that to him," he said of coming hunts, hunt tests and field trial competitions. "As dog handlers and hunters, we all strive for that time when the stars align and you and your dog, as a team, perform to the highest standard. And that is great satisfaction."
Chihuly was a child when his family came to Alaska in 1957. He earned a BS and MS in fisheries biology at the University of Alaska Fairbanks and worked as a fisheries biologist for the Alaska Department of Fish and Game and a private consulting firm. He served three years on the Alaska State Board of Fisheries. After settling in Ninilchik, Chihuly launched a sport fishing charter business, was a volunteer firefighter and emergency medical technician and served as Ninilchik Emergency Service's fire chief.
His first book, Alaska Fish and Fire, was published by Publication Consultants in 2016. It and Wings — Alaska Game Birds and Bird Dogs of Alaska can be found in bookstores or ordered online. For more about Chihuly, visit mikechihuly.com.
Wings — Game Birds and Bird Dogs of Alaska
Published by Publication Consultants