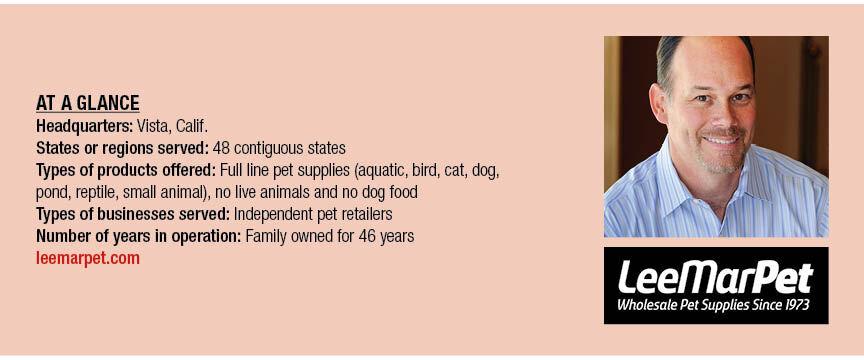 What's the Secret of Lee-Mar's success? 
Adaptability and meeting our customers' needs. Lee-Mar started in a 1,000-square-foot building 46 years ago and has grown to 70,000 square feet of warehousing space by adapting to the ever-changing pet industry and by meeting the needs of our customers. One example is that pet retailers of all sizes—independent pet stores, multistore locations, dog washes, veterinarians, groomers, trainers, breeders and natural pet stores, etc.—can order $150 or more of product at leemarpet.com and receive a selection of industry-leading brands at highly competitive prices with free shipping directly to their business. Retailers can control their inventory turns by not over ordering and not lose sales due to out-of-stock product. 
Tell us about your Ship to store/Customer's home program. Are retailers taking advantage of it?
We are definitely growing our drop-ship business with our website. If a consumer (Mary Lamb) is looking for a particular pet item that is not stocked at your store (ABC Pet Store), you can place an order online as a "bill to" ABC Pet store and "ship to" to Mary Lamb's home address. At your register, you charge Mary Lamb for the product plus your desired margin, and the package arrives at Mary Lamb's home labeled like it came from your warehouse. Another way is to have the product shipped directly to ABC Pet Store, and Mary Lamb can then return to your store for pickup. All 10,000-plus items are available for purchase with Lee-Mar's Ship to Store/Customer's Home program, and all consumer information is kept confidential. The win is that your store doesn't lose a sale and you keep your customers happy.
In what other ways does Lee Mar Pet support its pet specialty retailers and help them compete in today's multichannel market?
Lee-Mar's buying staff has many years of pet industry expertise. We have a strong history of what new items will sell and are continually selectively adding them to our inventory. You can easily review our new items on the new tab on the home page at leemarpet.com. Our goal is to increase sales for the pet stores so we add new items in an expedient manner, allowing the independent pet store to have an advantage over other channels.