Let's cut to the chase. I prefer owning small dogs—whatever the breed—more than large dogs. My take is this: Small dogs can do just about anything a large dog can do, and it costs less to feed them. Mind you, I'm talking about pointing breeds here, not the retrieving breeds, where size may well be an advantage.
By way of clarification, let me give you a general rundown on the types of birds I hunt, and just as importantly, where those birds live. I'm primarily a hunter of blue grouse, ruffed grouse, Hungarian partridge, and sharptails. Except for ruffed grouse, the birds I hunt live in relatively open to wide-open country. A big-running dog isn't necessarily an advantage in that kind of habitat. In fact, I've presented my arguments in this column several times for why I think a moderate-ranging dog is the way to go and how endurance is key.
Endurance
Let's leave out field-trial pointers, some of which can be quite large and run for hours. From a statistical perspective, they're supremely gifted one-offs—the LeBron James of the canine world. All other things being equal, as a general rule, smaller dogs tend to have more endurance. Ever seen a really large human marathoner? They probably exist, but there aren't many of them. Same goes for dogs.
Also, and this matters, it has been my personal experience that smaller dogs are less prone to injury. Again, this is purely my own experience, and not something I can prove. But smaller dogs seem to tear up their feet less in rough country, suffer fewer joint and foot injuries, and even seem to be a bit more tolerant of heat (although I suspect the latter varies more by individual than size).
My three English pointers are a good case study. Tango is about average for a female pointer at 50 pounds. My other two pointers, Suki and Skylark, are considerably smaller—both are right around 40 pounds, about as small as pointers get. Two of my three dogs have had joint problems, which, not to stray too far into an entirely different subject, were not related to size, but almost certainly to my having had them spayed too young.
Still, prior to their injuries, Tango had nine years of hard hunting under her belt, and Suki, at six, is still a hard hunter. Tango, in her prime, ran well and hunted hard. But she had nowhere near the fluidity, speed, or endurance of her two smaller kennel mates.
Is a pleasing gait, speed, and endurance the defining criteria for a good dog? Not for most of us. We all choose dogs the way we choose cars and lovers. Yes, we look under the hood, but we also care a lot about the way a certain type or size of dog makes us feel. I have several friends with very large, relatively slow-moving Ryman setters, but they love hunting over their dogs every bit as much as I enjoy hunting over my fleet-footed English pointers.
Nor do more slowly moving dogs—let's call them stately—necessarily find fewer birds. That depends far more on the dog's intelligence and prey drive than the speed at which it works, although a pretty good case can be made that a slower dog may well take longer to find them. My last Brittany, Powder, was a perfect example of this. She tipped the scales at something like 46 pounds, which in today's Brittany world is huge. Nor was she particularly fast. Instead, she worked at moderate to close range—even on the prairies, where she did most of her hunting—but when she found bird scent, she would pursue it with single-minded determination until she found the covey and pointed it. Time and again she'd find birds that the rocket-assed setters I owned at the time ran right by. On the other hand, she wasn't much for styling or intensity on point, and for a guy like me, who has spent three quarters of my life hunting over bird dogs, that's important.
Conformation
Big or small, how a dog is put together makes a difference. There's a word for that: conformation. It's something I can intuitively sense, but hardly something I'm qualified to objectively judge. For that, I rely heavily on my friends who breed dogs. In the same way that there are distinct body types that are ideal for gymnasts, basketball players, and soccer players, there are body types that work best for pointers, setters, and griffons. Legs and feet that aren't within acceptable norms may cause problems years down the road, when the accumulated miles begin to add up. Small dogs do have advantages over large dogs, in my opinion, but that's only if the small dog is put together like it's supposed to be.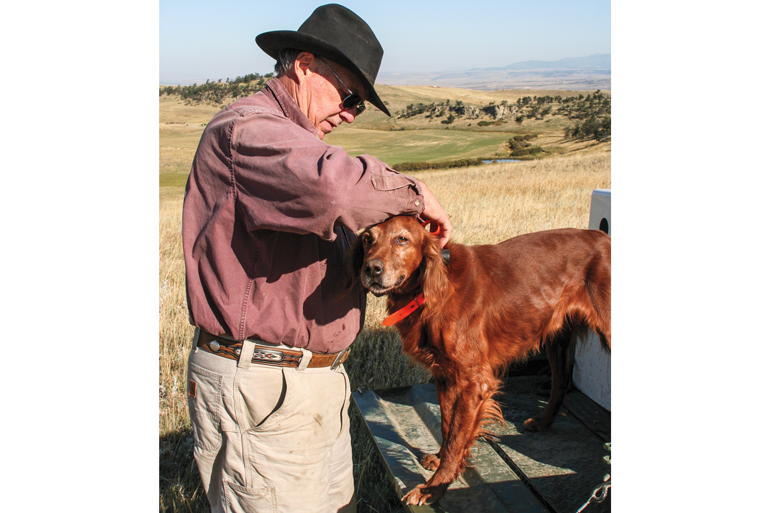 The last things that matter are weight and conditioning. One of my hunting buddies, Jim, has a large English pointer named Woody which, at probably 60 pounds, is certainly larger than average for a pointer. Woody is superbly muscled—a perfect physical specimen—and can fly across the prairies for Huns, or through the mountains for blue grouse, like smoke moving across water. Thanks to my friend's conditioning, the dog is in superb condition, and has every bit the style, fluidity, and intensity of either of my much smaller dogs.
But Woody is currently on injured reserve. Last season, when Jim called him back at the end of a hunt, he noticed Woody was limping. Jim's an MD, and he immediately suspected a CCL tear. He was close; his vet determined that the dog had partially torn its Achilles tendon. As near as either of us could figure, Woody's great strength and drive had simply surpassed the limits of his Achilles tendon to bear.
There does seem to be an evolution toward smaller pointing dogs across the board, with the possible exception of the versatile breeds. Pointers, setters, GSPs and Brittanies all appear to be getting smaller on average than they were in my halcyon and vanishingly distant youth. And that's fine for guys like me. We like 'em that way!
— to www.gundogmag.com