The COVID-19 pandemic has been not just disruptive. It has brought much of the world to a halt and uncertain reboot. That reality makes the defiant performance of the U.S. pet industry all the more impressive. Even more so than during previous recessions, rather than backing off on spending, pet owners have doubled down, going to extraordinary lengths to make sure their furry family members are well cared for. Many pet owners have even added to their menageries, with pet adoption up across all animal types, along with fostering likely to become permanent in many cases.
As noted in previous installments of this column, the pet industry came into the pandemic strong, and thus far all product and service sectors have outperformed the dire projections of the first weeks of the crisis. Of all the market sectors, however, pet food has been, and will almost certainly continue to be, the frontline bulwark as it is the least discretionary and a huge chunk of the business.
During 2019, pet food accounted for 38.5 percent of pet industry sales; in 2020, that share is expected to jump to 41.6 percent—indicative of pet food's strong performance vis-à-vis other market areas, with non-food pet supplies getting a similar bump (from 19 percent to 20.8 percent). Reflecting their more challenged state, services (veterinary and non-medical), which account for the rest of pet industry sales, will meanwhile decline from 42.5 percent in 2019 to 37.3 percent in 2020. Looking ahead, pet food should continue to flout COVID-19, growing by 7 percent in 2020 and surpassing the pre-pandemic projection of 5.3 percent. During each of the next five years through 2024, the annual sales gain will exceed a whopping $2 billion, although the increases will begin to moderate in 2021, placing the 2019-2024 compound annual growth rate at 5.5 percent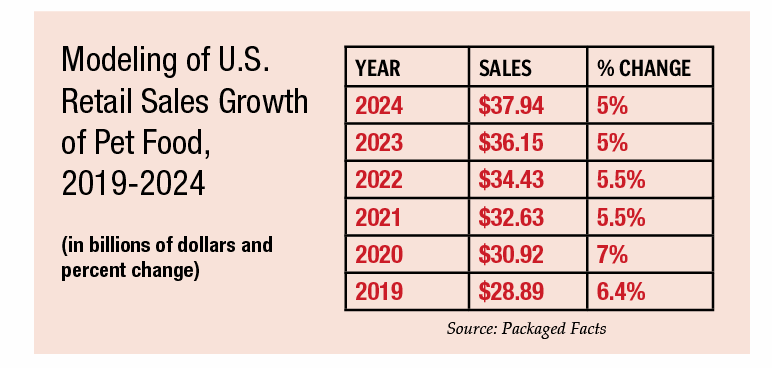 Somewhat ironically, as disruptive as COVID-19 has been and still is, rather than stymying key trends in force in the pet food market pre-pandemic, it has infused them with new energy:
E-commerce
Luckily for the pet market, e-commerce was in full swing well before COVID-19, and no sector has been more profoundly altered by e-commerce than pet food. No one disputes that e-commerce has made life harder for brick-and-mortar sellers. But that fact of life aside, e-commerce has been a net gain for pet products. Again in 2019 as in 2018, e-commerce was the fastest growth channel for pet product sales, surging 24 percent to $12.2 billion, with pet food accounting for two-thirds (66 percent) of this amount and online sales of pet food representing nearly three-quarters (73 percent) of pet food industry growth.
Fresh Pet Food
With business models based in e-commerce and direct-to-consumer (DTC) sales, as well as human-grade ingredients and innovative processing techniques, new-generation fresh pet food startups have been enviably positioned to capitalize on the online surge during the age of COVID-19. Over the past few years, direct sellers including The Farmer's Dog, NomNomNow, JustFoodForDogs, Ollie and Pet Plate have received multimillion-dollar capital infusions, and of late they have taken off the kid gloves in social media and television ads sharply critical of traditional kibble and wet pet food. Based on their success and staying power throughout the pandemic, these companies may find themselves attractive acquisition targets for big pet food companies looking to leapfrog over the R&D necessary to bring fresh pet food to market quickly.
Customized Health and Wellness
With everyone preoccupied with staying healthy, it's only natural for pet owners to want the same for their pets. Like fresh pet food, diets that address specific health conditions are on trend in the pandemic era, with recent entries including Blue Buffalo's new True Solutions line in formulations targeting weight, joints, coat and digestion. Similarly in demand are products that combine age, size and breed specificity with condition-specific benefits. With made-on-demand fresh pet food too expensive for many pet owners, there's an opportunity for marketers to offer more affordable "designer wellness foods" at lower price points. Also ripe for additional development—given the controversy surrounding the U.S. Food & Drug Administration's reports over possible links between canine dilated cardiomyopathy (DCM) and grain-free foods—are grain-inclusive formulations featuring ancient grains, as well as plant-based superfood ingredients such as kale, spinach and blueberries that can stand in place of "undesirable" grains such as wheat and corn.
Science-Based and Veterinary Diets
Between the pandemic and the lingering cloud over grain-free natural diets, the pendulum may be swinging back to pet food formulas that are science based. During the fourth quarter of 2019, Hill's pet food sales jumped 8 percent, followed by an even more impressive 20 percent increase in Q1 2020 compared to the same time period the previous year. Contributing to the strong showing is the U.S. relaunch of Hill's Science Diet with upgraded recipes, improved kibble shapes and redesigned package graphics, along with Hill's Prescription Diet Gastrointestinal Biome. Veterinary diets are also being promoted more in trade journals, and, in sync with their move into pet medications, online retailers are increasingly featuring veterinary diets—a recent email promotion from Chewy.com is headlined "Veterinary Diets from brands you trust." Although not tied specifically to veterinary diets, 16 percent of dog owners and 12 percent of cat owners use veterinarian-recommended formulations, and the percentages are even higher among those who have recently changed foods, at 19 percent of dog owners and 14 percent of cat owners.
"The Next Natural"
With natural formulations now ubiquitous in the pet food market, "natural" in and of itself has lost much of its pizzazz as a product claim. Accordingly, claims such as "fresh," "limited ingredient" and "superfood" have gained traction, as have pet foods featuring exotic and alternative proteins. In the months and years ahead, expect to see more products tout sustainability, animal welfare and socio-economic system initiatives as well. Nearly half (48 percent) of pet owners agree that pet retailers' participation in welfare and rescue causes plays a role in where they shop for pet products, and the same percentage agree that the participation of brands in causes impacts their decision on which products to purchase. Additionally, 69 percent of dog and cat owners are concerned about the treatment of animals raised for use in pet food and treats/chews.
Recession resistance of the U.S. pet industry notwithstanding, it would be foolish to assume that the economy is not an important influencer nor an ongoing X factor. As reported by The Wall Street Journal on July 16, although retail sales rebounded almost to pre-pandemic levels in June, up 7.5 percent, "…a recent surge in coronavirus cases could again put the brakes on retail spending, as states pause or reverse reopening plans for indoor dining, movie theaters and other activities."
Already, many economists are predicting an extended slump as opposed to the much-hoped-for "V-shaped" recovery imagined earlier on. If this plays out, cash-strapped consumers, including some pet owners, will likely trade down to lower-cost products including private labels, as they have during previous recessions. Even here, however, the news is not all bad, with contract manufacturers of pet food private labels, and the retailers that sell them, poised to capitalize on and hone yet another strategy well in play pre-pandemic: cementing shopper loyalty by offering brands available nowhere else.
---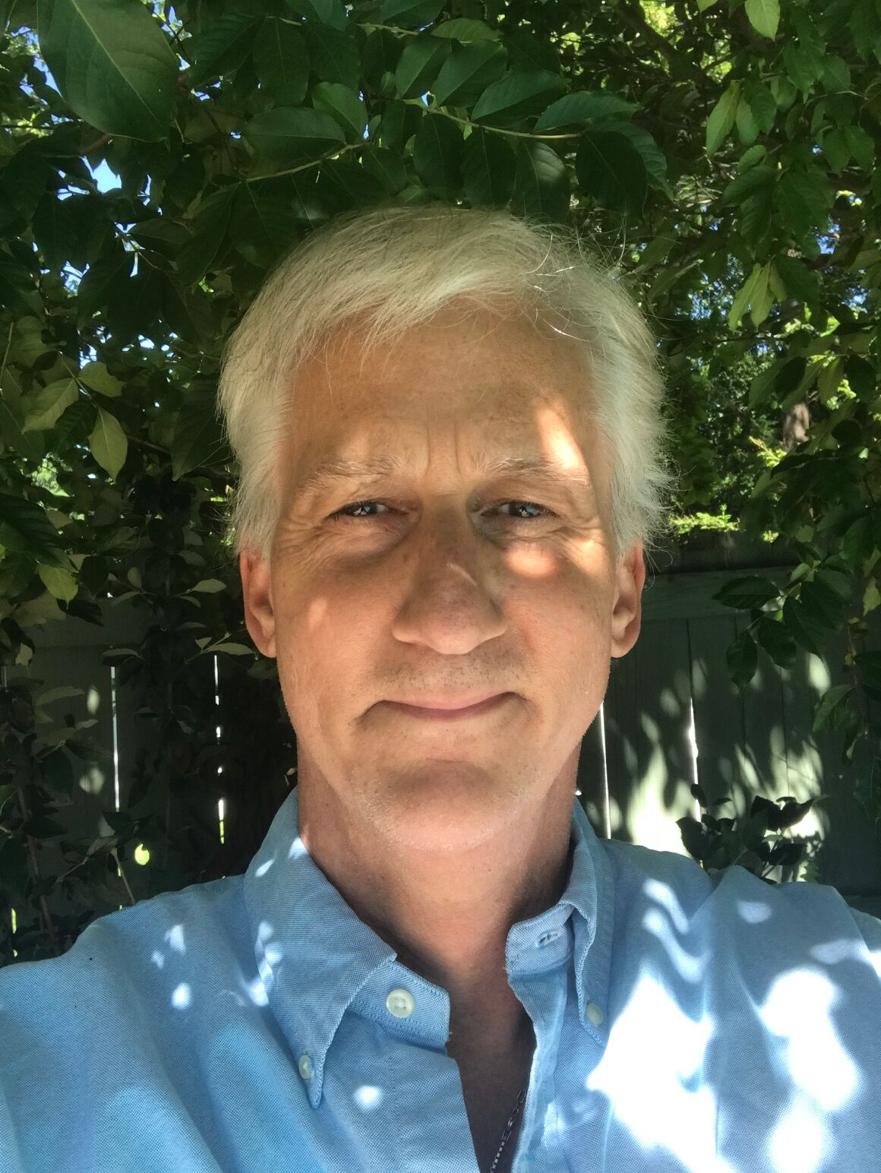 David Lummis is the lead pet market analyst for Packaged Facts, a division of MarketResearch.com, and author of Packaged Facts' U.S. Pet Market Outlook, 2020-2021: Responding to the COVID-19 Impact. Data cited are from this report and Packaged Facts' February/March 2020 Survey of Pet Owners and July 2020 report, Pet Food in the U.S., 15th Edition.